Island hopping and shopping on a cruise in the Caribbean.
Shopping in the Caribbean has become a favorite pastime for travelers and especially cruisers.
Not only will you be inundated with the number of tax and duty-free stores on each island, but you will also find that the experience can be very different from one port to the next.  Even the selection can vary dramatically.
Which island is the "best" for shopping? Well, that all depends on what you are interested in.  As far as pricing, you will find that branded goods are typically the same price from island to island…but considerably less than what you would pay at home. Hence, one reason why people flock to the Caribbean to shop! You will find some islands have an enormous selection of fine jewelry and watches, yet others are better for electronics, perfumes & cosmetics, liquor or even indigenous handicrafts.
Cruising is by far the best way to get a taste of everything in the shortest amount of time.  Let me highlight a few key choices when it comes to island hopping and shopping…
Shopping in Philipsburg, St. Maarten
St. Maarten tops my list when it comes to convenience & selection. Cruisers have it easy, as there is a massive selection within easy walking distance from the cruise ship piers.  However, I love the downtown area as it offers a beautiful boardwalk along a white sandy beach with crystal clear turquoise blue water.  It's so appealing that you will take photographs of the water itself…I do it every time! You will also find tons of restaurants and bars all along the boardwalk if you need a break from shopping. Step back to Front Street and you will find a multitude of jewelry boutiques along with electronics, perfumes, liquor, swimwear, souvenirs and even casinos. Another place not to be missed is the Guavaberry Emporium featuring locally made liqueurs and hot sauces.  It's also the most photographed building on the island.  In the past, St. Thomas ruled the Caribbean.  However, St. Maarten has taken over the reins and is easily the most popular shopping destination in the Caribbean.
Shopping in Old San Juan, Puerto Rico
Old San Juan is by far the most scenic of all of the Caribbean when it comes to architecture.  If you arrive by ship, be sure to be out on deck upon arrival and/or departure.  The forts surrounding Old Town are spectacular.  The majority of the shops are along Calle Fortaleza and the streets are cobblestone, so comfortable shoes are a must. The old colonial-style buildings are colorfully captivating.  You will find some upscale shops here as well as a number of handcrafted items made in P.R.  There is even a unique little spice and tea shop that I love called Spicy Caribbee.  Locally owned restaurants and bars are everywhere and the place comes alive in the evenings. Stop by Barrachina's, the birthplace of the Pina Colada for a refreshing beverage before you leave!
On another note…
There is a major shopping mall which is a taxi ride away from Old Town.  However, it is somewhat similar to American shopping malls.  In other words, bypass the mall.  Old Town is where you want to spend your time!   If you need some essentials, there is a "CVS" pharmacy and a "Walgreens" just along the waterfront.  Again, this is another port with lots of casinos.
Shopping in St. John's, Antigua
Antigua is another great shopping port in a very compact area. Here you will find jewelry, watches, perfumes, leather goods and the most amazing swimwear shop in the entire Caribbean called Sunseakers. Wine lovers will be pleased with the selection of South African wines available at C&C wine bar and delectable food and drink over at Cutie's restaurant in Redcliffe Quay…again, within walking distance from the cruise ship piers.
This is just a small taste of what the Caribbean has to offer.
Shopping in Cartagena, Colombia
If traveling to Cartagena, Colombia, it's all about EMERALDS!  I have an entire blog devoted to "The Emerald City – Cartagena" and let me tell you, the number of emeralds you will see is mind-boggling!
Shopping in Limon, Costa Rica
If in Limon, Costa Rica, the Craft Market is a must! The wooden puzzle boxes are completely handcrafted & polished to perfection.  You won't find them anywhere else. In fact, all of the wooden handicrafts are amazing. Oh, and don't forget the coffee.  Café Britt is some of the best coffee on the planet!
Shopping in Panama
Panama is known for their Molas.   This colorful hand-made textile is a true art form.  The Kuna Indian tribe mostly in the San Blas Islands have a unique style and you can buy many of their colorful designs for framing or pillow covers.  You will only find true Molas in Panama and Colombia, as they are forbidden to be sold outside of these countries due to their cultural heritage.
Shopping in Cozumel, Mexico
Then there is Mexico! Cozumel is your #1 stop in the Western Caribbean.  From Diamonds to Silver to Talavera pottery to Tequila…this fun-loving island has it all.  Safe and friendly, this is an island you will want to return to.  Getting into town is a must.  However, there is no electricity on the East side of the island…just long stretches of white sandy beaches with tropical blue waters. So if you have time, you may want to check it out. A few beach bars over there…but the main town has it all.   Don't shop just at the cruise piers…get into town for the true Mexican experience. If you are there late in the day…be sure to sit along the sea wall to catch a spectacular sunset.
Final Shopping tip…
Word to the wise, as with anywhere in the world, buyer beware.  If a deal seems too good to be true, it probably is.  So when buying luxury goods, be sure to stick to stores that are reputable.
Exclusive Shopping Cruise on Regent Cruises in the Mediterranean.

ATHE
NS (PIRAEUS) TO ATHENS
& THE GREEK ISLEs
 –
10 NIGHTS – 
SEPT 13, 2021 
SEVEN SEAS VOYAGER.  
Enjoy a FREE Two-Category Suite Upgrade when you book by September 30, 2020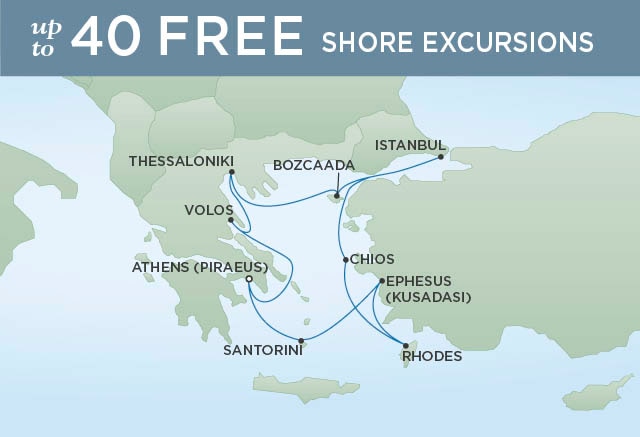 Private Shopping Tours Included in Istanbul, Kusadasi, Santorini, and Athens
Private transportation, shopping experience, exclusive gift and refreshments included
US$400 Group Shipboard Credit per Suite. Welcome and Farewell Cocktail Party and Group Dinners on board
For more information on this first at sea exclusive shopping group go to Click Here for more detailed information.  Or send an email to Adam Martindale of Martindale Travel. If you love to shop during a cruise Then Seven Seas Voyager are offering a first to sea exclusive  Shopping Group. Sail around the Greece and Turkey on the Seven Seas Voyager.